We aim to give you a full day of adventure and enjoyment, making you as comfortable as possible. We hope you will return again and again to visit the Scottish Highlands, as this is all but a taster session, although you will have plenty of time to experience every aspect of the Thistle tour.
What's included in the price?
Water refreshments will be provided on the coach, as well as waterproof rain macs should you require one. Entry fees into the Glenmorangie Distillery are also included and there is no entry fee to Invergordon museum should you wish to visit at the conclusion of the bus tour. For £59 this full day tour is a bargain; we aim to please and want to give you a quality experience at an affordable price.
Tour One Itinerary
This tour will see you leaving Invergordon, your Highland port of call, around 10.30.
Black Rock Gorge - Harry Potter Experience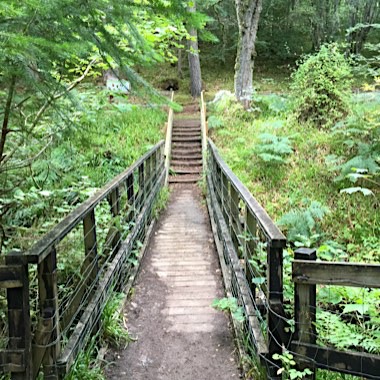 We will take you a few miles away to the little village of Evanton, where we will drive up the hill then disembark for a short 500m walk to the Black Rock Gorge, itself a geological marvel. Here Harry Potter the Goblet of Fire was filmed in 2008. The walk will take you over two wooden bridges over the deep gorge and through fairylike woodland, where the filming took place. This will take around 1 hour in total. Please put on your walking shoes and it is unsuitable for disabled passengers, but they may wait on the coach and listen to local Scottish music.
Historic Dornoch - Whisky and chocolate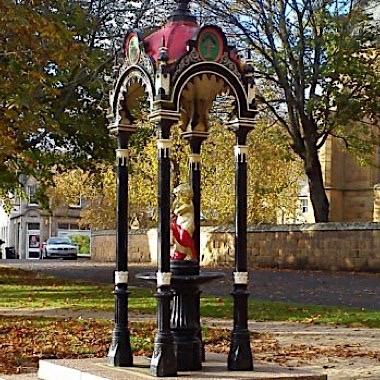 Around 11.30 you will leave for the lovely and historic town of Dornoch, about 18 miles north of Evanton, arriving around 12.00. Here a guide will meet us and introduce you to the many many things to see and do in Dornoch, from historic walks starting at the museum, to visiting amazing shops that will delight you, including candles, jewellery, books, antiques, Golf Pro shop, the castle hotel, the Jail, the Whisky Cellar etc. and you have to visit Cocoa Mountain, where everything is made with chocolate! You can have a bite of lunch or simply afternoon tea, the choice is yours.
The Carnegie Whisky Cellars Tasting Room
Visit the Carnegie Whisky Cellars for Whisky Tastings and Gin Master Classes
Blind Whisky Tasting – this is so enjoyable, don't miss it.
Have some whisky fun and test your nosing skills in this 45 minute experience.
Independently compare 2 single malts and 1 blended whisky to try to discern where they come from.
Dornoch Cathedral - Madonna's wedding
Visitors love seeing the 17th century cathedral where Madonna married Guy Ritchie in 2000. You can hear all about it from the church's own guide.
We often hear from cruise passengers that they do not get long enough on a tour, but we are making up for that, as you have a leisurely 2.75 hours to take your time, eat in comfort and walk at a slow pace. Everything is close to the town centre. We will leave here around 14.45.
Glenmorangie Distillery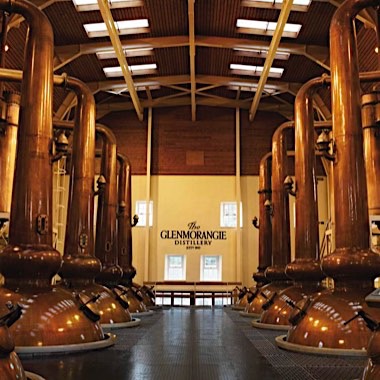 Around 15.00 we will depart for the short journey of about 10 miles to the Glenmorangie Distillery, which takes us just about 15 minutes away from the port of Invergordon. You will be shown around the distillery with their own experienced guide, culminating in a short walk to view the wildlife at the Cromarty Firth within the distillery grounds and having a tasting session of the famous Glenmorangie Original, not forgetting their shop with various whiskies made at the distillery on sale for your delights. This section of the tour takes about 1.25 hours, but is unsuitable for the disabled, as there are steps to climb, however the less able may wish to sit and partake of a whisky whilst the others look around. We will leave the Glenmorangie around 16.30 to take you back to your ship for 5pm.
You will arrive back at your ship for around 17.00.
You may wish to pop into the local Invergordon museum and discover all about the town's naval history and its oil rigs.
This tour is a full day tour, packed full of special delights and memories, which you will take home with you of the Scottish Highlands. Haste ye back!
Book this tour
Prices: Adult - £59.00, Kids - £45